Rachael Morrison smells every book in the MoMA Library collection and records the call number, title and a description of the smell of each book in a ledger.
This is part of a performance titled plainly Smelling The Books. The performance romanticizes the book: the physical artifact. When I first read about this, it seemed nothing more than faux-nostalgia. But juxtaposing this with all the frenetic chatter about the future of publishing and the future of books intensified the intended meaning. Especially if the people who are talking about this are serious enough to publish physical books to talk about death of print.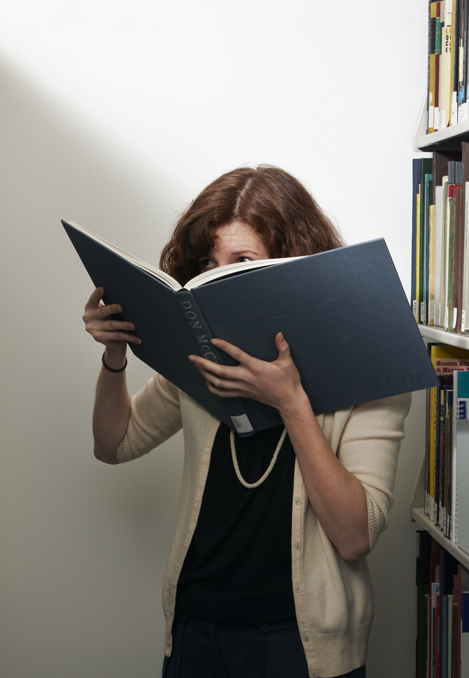 Asking the right question
In the past year, the publishing industry (in the Western world) has been shaken up by a lot of rapid changes. Amazon's E-books outsold physical books. Self-publishing found many poster children and is now a legitimate option for any writer. Not to mention one of the biggest names in the literary world kicked off an ambitious online venture. It seems like an all-digital-all-the-way story.
There has been a lot of chest-thumping by the new players and a fair amount of desperation shown by the seasoned ones. Each side seems to be holding on dearly to its skewed side of the story. A closer look shows that there is no point to having two sides. It isn't a zero-sum game. McSweeney's recently released a great series of essays about the state of publishing. It puts things in perspective.
But this post isn't about that. I'm more curious about the reader – you, me, everybody. What do we get out of a book? Any kind of book! In order to exist, publishing needs us – readers. All the talk has been about the author or the publisher or the industry or the "re-imagining of the book". Clive Thompson wrote this in his article a few years ago, and I completely agree – we need to ask the right question:
"We need to stop thinking about the future of publishing and think instead about the future of reading."
Reading is the combination of parsing information, comprehension and mental association. Contrary to common perception, reading isn't purely visual. In fact, any act of information intake is never limited to one sense. We extract and construct meaning out of a book – and we use more than our eyes. And even when we use our eyes, we do more than just read words. When I tried to deconstruct the very act of reading, three components popped out – the external cover, the material touch and the marginalia. I'm sure there are more, share them if you can think of any.
Book Covers: Don't Judge Me Bro
The adage might suggest otherwise, but we do judge a book by its cover. I saw one of the best examples of this when I attended an NYPL event for the book 'Go the F**k to Sleep'. The illustrator Ricardo Cortés and the publisher talked about the cover page being one of the most importnat factors in a book's success.
The cover for this book is unfinished. It invites us in to fill in the area where the moon is and get the title. We are making sense out of the cover by observing and filling in the blanks. Aren't we "interacting" with the cover here? I think we are.
"The word interactive is the wrong. Interactive makes you imagine people sitting with their hands on controls, some kind of gamelike thing. The right word is unfinished…Finishing implies interactive: your job is to complete something for that moment in time."
Riding the L train to work every morning I noticed that books act as silent connectors in public places. Of all personal media consumed in public, books are the only form that make an external statement. Listening to music on the train is a solitary activity. No one around me can access what I am listening to. Reading The Hunger Games trilogy on the train is far from being a solitary act. The existence of the book cover makes it so. It is an outward declaration. It either invites someone to judge me for reading a book that belongs in the Young Adult section or makes them give me a silent nod (rarely made public, mostly in their own minds) acknowledging how awesome the series is.
A visible book cover is a signifier of public identity. The same principle applies to the spine of a book and to bookshelves. My friend Drew says that when he visits someone's place, he always looks through their bookshelves. This is his bookshelf. And it says a lot about him.
Digital reading blurs the distinction between public and private reading. No one can see what you're reading – all of it becomes a solitary activity. And some people don't seem to like that too much.
I wonder if people eschew reading certain books in public. If you know of someone who does so, or you do it yourself, I would love to hear your thoughts on the difference between public and private reading.
Of course it's touch-friendly!
I'm not going to romanticize the "feel" of paper the way the MoMA piece glorifies the smell of it. Anne Mangen, PhD., is a specialist at The Reading Center at the University of Stavanger in Norway. She suggests that reading is multi-sensory(not just visual) and embodied(not just for the brain, but the body too). Her study on the haptics of reading show that turning and touching the pages instead of clicking on the screen influence our ability for experience and attention. Apparently our hands play a significant role in the way we comprehend text. This means that reading a book (by flipping the pages), a PDF on my PC (by clicking & scrolling on my mouse) and an eBook on an iPad (by swiping and swooshing) all fire up distinct cognitive processes. Each of them lead to different mental orientations.
She suggests this applies to the physical dimensions of a book. The thickness of books gives us an indicator of how much reading lies ahead of us. Bookmarks and dog-earing do the same. I get excited not just by the thickening of the plot in the second half of a book, but also by realizing that I'm 130 pages away from the ending. Flipping through pages gives us the sense of progress.
"I am not on a Kindle. I love closing the book with satisfaction when done!"

- Caley Cantrell, my grad school professor
Marginalia
The American Museum of Natural History has a Darwin Manuscripts Project. They've been publishing photos of Charles Darwin's papers and pages from Darwin's private books covered with personal scribbles, penciled notes, jottings he made as he read.
This is a page about Jean-Baptiste Lamarck's view of how animals change over time. A view that was against everything Darwin wanted to propose. And Lamarck, at that time, was a very eminent fellow. The note says "If this were true, adios theory." There is quite brilliance in that note. The way Robert Krulwich (who dug out this note from the archives) puts it…
"I see a brave smile in that phrase. Darwin knew what he wanted to see, but he knew there are many ways to weigh the evidence. And so for the next few decades he would look at his Big Idea from every possible angle, supportive, contrarian — every way possible."
That little note shows us Darwin's fundamental thought process. Every sentence  in a book has the potential to fire up thoughts in our minds. Reading is far from being a passive activity. I personally love the idea of thinking of a book as an incomplete object until it has found a reader and elicited a reaction. What the author has to say is as important as what we make of it. We scribble on books to complete them. The act of cramping our thoughts into the little margin space is about solidifying our understanding. It is about declaring our own views.
SEFTTI
Social Reading. Why not? We have social networking, social shopping, social coupons, social music…this seems like the next logical step. And much like all those things, when have books NOT been social? Digital copies cost nothing – this expedites the sharing process and increases the range of sharing. But is the idea of social reading merely plugging our eBooks into social-every-fucking-thing-there-is (SEFTTI). Two people who have done an amazing job imaging and structuring the future of such a social reading experience are Craig Mod and Kevin Kelly. Craig suggests that digital books will take a whole new life once they reach the hands of the readers. I agree with this to a great extent – that people will keep tacking on content and the book will "grow". This is the way he sees it panning out.
What I would have loved to see in either perspectives is the role of human emotion in social reading. Think about books that have inspired generations – how they connect people. Maybe not even that lofty – think of Danielle Steel's books. There is a huge community around her books. They all could care less about adding on their own content on top of her books, but they sure can bond over it.  I don't even need to tell you what a social force Oprah's book club was.
Running on metaphors
Physical books have been around for thousands of years and have undergone umpteen transformation to arrive at the state we see them in  today. A page, a page layout, a page number, contents, index pages, book covers, book spines and author bios are all concepts that were developed at some point in the evolution of books. We are just entering the age of digital reading, and it will be a while before these established concepts are reconsidered.
Why would you even need the idea of a 'page' on an eReader. It's a screen device, not a paper device. This is similar to an example I had mentioned in my post about metaphors. The first automobile was pitched as a 'horseless carriage' because people needed to use an established concept to understand a new one.  We are borrowing concepts from physical books to create new products and services around digital publishing and digital reading, like this app that lets you receive digital autographs on your Kindle. Importing functionality will still have value – like all those apps that let you 'flip' pages on the iPad. But the value will be strictly superficial – like that clicking sound you get (but don't really need) on your digital camera.Whatever we haven't borrowed from the old, we will yearn for. We are already complaining about not having margins on eBooks.
Kindleyness
I think this phase is a purely transitionary. And some point we will lose the conceptual crutch of physical books and explore what digital reading can really be. We are now stuck with the form of a digital reader and the function of a physical book. We're not asking what the Kindle can possibly do, but what books do and the Kindle can copy. When we break out of that mode of thinking, it will be like breaking the sound barrier. We might not even have to use books then – neither physical nor digital.
"I really want to sees stories written for the the Kindle that use 'kindleyness' the way novels use 'bookiness'."
Mike Matas showed a demo of a magnificent reading experience for Al Gore's next venture. But even he falls into the trap of calling it a 'digital book'. It really is its own new entity. We just haven't found a name for it yet. We're still stuck with "horseless carriage", and haven't invented the term "automobile" yet.
Meaning & Materiality
We love physical books because as a society we've figured out how they fit in our lives and out minds. We know exactly how we make meaning out of them – and we treasure these ways. Darwin made meaning of the books he read by scribbling. You might have your own ways of doing that. As reading evolves, and publishing eventually catches-up, we will start discovering new ways to make meaning out of these novel reading experiences.
[Until then, the argument of 'Books vs. eReaders' doesn't make sense. And if you're just looking  for reasons to replace books with a shiny new eReader, I suggest you don't read this really smart article.]
I see the point of the MoMA piece. Smell is, for some, one of the ways to mentally associate with books. And in this transitional phase, if borrowing physical metaphors is the only way to deliver new services – may I suggest bundling every new Kindle with this little gift.
Thoughts?
Photo courtesy: Smelling the Books by Michael Schmelling. Go the F**k to sleep by Akashic Books. Darwin's Notes by Cambridge University Library, Biodiversity Heritage Library. Post-artifact books by Craig Mod.